PENEDA-GERÊS NATIONAL PARK TOUR
Transportation: Pick up & drop off included
Food: The main ingredients for your lunch are produced by the locals.
ABOUT THE PENEDA-GERÊS NATIONAL PARK TOUR

This tour is more than a simple visit to Gerês park:  it's a feeling! Come be a part of it!

Peneda – Gerês National Park is the most exciting place to visit in the whole country if you are a Nature lover! No other place can offer so many different things at the same time: Beautiful landscapes, hikes, treks, ancient villages and a tasty local gastronomy full of fresh and local products.

We will pick you up from your lodging in a 4×4, and your escape from routine begins!

We do not offer the touristic spots. Instead, we offer you the unknown, the hidden secrets that only the locals know! Surrounded by gorgeous mountain landscapes you will make short and accessible hikes that will reward you with breathtaking views, Wild swimming in crystal clear lagoons with only fish to make you company, waterfalls taken straight from fantasy books and a time travel back to ancient times, where you can see and feel how the locals live, dress and eat in centuries old villages.

To be able to absorb all the sounds, smells, and natural beauty of Gerês all year round, you have to be able to open your heart and clear your mind. Therefore, our price has everything included!

PENEDA-GERÊS TOUR HIGHLIGHTS


Off-road trails, small hikes to hidden spots.
See Amazing landscapes
Swim in waterfalls, do cliff Jumping to lagons or simply relax and enjoy the views 
Explore Peneda-Gerês National Park from Porto on a 4×4 led by a local friendly guide who knows every secret spot
Taste North Portugal's traditional food and wine; Wine(Vinho Verde) in a local restaurant.
Learn about the history, culture and people of the countryside of Portugal from Peneda-Gerês National Park locals.
Visit the most special viewpoints of Geres National Park
Be a responsible traveler (part of your ticket goes to help the community that you visit).

INCLUDED


A friendly nature guide;
Pick-up and drop-off at your accommodation;
Small-group tour;
4×4 experience;
Contribution to the local associations that help to preserve nature and culture;
Insurance;
Tradicional lunch and wine (Vinho verde) in Local  Restaurant. (Vegetarian and vegan options)
Water;
Photos and videos from the tour.

NOT INCLUDED


Fall in love with Gerês National Park, just like we did!

SEND US AN EMAIL IF:


The day you want to book is not available;
Your accommodation is not in Porto;
You are in a large group or have a big family;
You are looking for a private/Taylor made tour;
If you are a single travel;
If you don't want to make reservation by credit card.
FAST & SECURE PAYMENT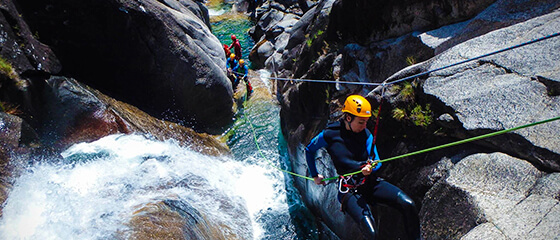 BEST QUALITY EQUIPMENT

8 HOURS

PICK UP & DROP OFF INCLUDED
CANYONING IN PENEDA-GERÊS NATIONAL PARK
Canyoning is much more than just jumping, sliding, and abseiling in the river. It means becoming part of the surroundings. Extend yourself, overcome yourself, and have lots of fun in the process! We…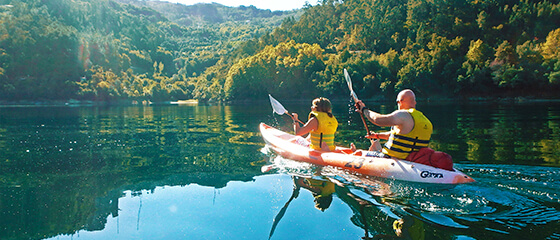 LUNCH INCLUDED

10 HOURS

PICK UP & DROP OFF INCLUDED
KAYAKING IN PENEDA-GERÊS NATIONAL
PARK
Kayak in the Caniçada reservoir and start your day surrounded by stunning mountain landscapes! We provide you with a completely different perspective of the Gerês National Park with the right amount of fun…