This picture was taken during the kayak experience in Gerês National Park.
We usually land the kayak on small desert beaches in Caniçada. Then it's only you, your kayak, calm water, landscapes and sometimes some strange wild life.
Kayak tour in Gerês National Park
Let's start from the beginning...
Your day starts in Porto at around 8h30 am.
You see a 4x4 Land Rover parking in front of your accommodation, coming to pick you up.
The first thing that comes up to your mind is very probably: "Oh my Goodness! I have booked a tour to Africa!!" Don't worry... Gerês is closer than Africa but you will also be able to see powerful landscapes and amazing wildlife here.
It takes you about 90 min from Oporto to Gerês National Park by 4x4 (packed with fun getting to know the guide and other travellers like you!). The kayaks and paddles are already waiting for you.
You don't need to have experience to do it, we provide the best equipment, insurance, and our guides will always be prepared to teach you and help you on your way…
No rush, take your time to breathe and absorb the powerful green surroundings, and without even realizing it, you will soon arrive at a small, golden beach of Gerês National Park.
Time to stop, relax, swim... But you will be not alone!!!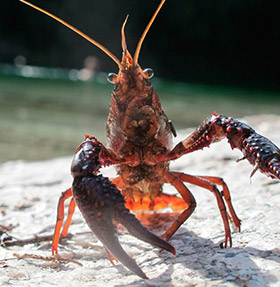 Crayfish (lagostins), our first travellers from the USA!
Oporto Adventure Tours was the first company in Oporto organizing one-day tours in Gerês National Park, curiously, our first travellers were Americans.
But they weren't the ones bringing Crayfish to Gerês! Crayfish has been there for some time. We don't know when but is possible that someone brought them from the United States.
One thing we're sure. They don't belong here!
You can lay down, relax and sunbathe without worrying about this little visitor. It doesn't attack people. We are the predators here! It is also very common to find remains of crayfish in otter feces, those also being crayfish predators!
Crayfish are considered to be a pest to the Portuguese native wildlife, eating amphibians like frogs and salamanders, so I definitely support the idea of eating them!

Remember, why you should participate in a Kayaking tour in Geres National park when you travel to Porto?
During the kayak tour you can find:
- Peace
- Golden beaches
- Calm clear waters
- Fun
- And tasty crayfish...
See you, soon!
Your local guide,
(Oporto Adventure Tours guide)

The best thing of landing in Porto is to visit the north of Portugal!
Peneda-Gerês is the one and only National Park in Portugal and it is just an hour away from Porto.
Settled in 1971, it was the first protected landscape area in Portugal, with a preserved fauna an flora maintaining it's cultural traditions for centuries on this mountainous region. It's one of the places in Portugal where you can find the most authentic villages, with customs and practices lasting until the present day.
There are so many things you can do here like 4x4, canyoning, hiking, wild swimming, paddling, learning our culture directly from it's source: the locals.
If you choose to join us at Oporto Adventure Tours, we can assure you that you will do more than one activity in a day!
Our purpose is easy peasy: we want you to start loving Gerês as much as we do!
Do you like kayaking?
It is so easy and fun that you don't need a great physical shape or Kayak training to do it.
Peneda-Gerês National Park is your green getaway in Oporto area!
Right now you are thinking: kayaking is the same in every part of the world. But what makes Gerês special?
It's a unique landscape, namely the green mountains, the golden sand in the fluvial beaches, the white bridges, the fresh air one breathes and the pleasure of only listening our own heart and the row oaring in the brisk water.
Close your eyes... and imagine yourself surrounded by natural beauty.
Rowing down the streams and stopping by a fluvial beach far away from everything and everyone and then swim, relax. Isn't that what you're looking for when you think of your holidays?
More information at: This email address is being protected from spambots. You need JavaScript enabled to view it.

Author: Carla Couto
(Oporto Adventure Tours owner)