Planning a Bachelor, bachelorette, hen or stag party ?
5 tips of places to eat in Porto
As you know we are experts in organizing fun and great outdoor moments in the nature, but
during the booking process, many Stag/bachelor party organizers ask us about restaurants that can accomodate large numbers of people and that obviously are great places to eat!
From our own experience as locals and considering also many travellers opinions, we would like to share with you 5 great options:
Type of food: traditional Portuguese (we will recommend the pork leg)
Average price: 15 euros per person
restaurant type: Casual dining
Drinks: House wine!
Location: Rua do Bonjardim, 525
Advantages: good food, great space, good quality for the price!
Disadvantages: It´s a 15 min walk to the downtown center!
Type of food: Fusion
Average price: 30 euros per person
restaurant type: dining with shows
Drinks: white drinks!
Location: Rua Gonçalo Cristóvão, nº 198
4000-265 Porto
Advantages: It's an erotic bar, but does not over do it, it's usually lot´s of fun for bachelorette parties!
Disadvantages: The price is much higher than the other places and you should grab a taxi do go to downtown.
Type of food: traditional Portuguese (Famous dish : "tripas á moda do porto")
Average price: 15 euros per person
Restaurant type: Casual dining
Drinks: House wine!
Location: Rua do Ateneu Comercial do Porto 22, 4000 Porto
Advantages: Good food, great variety, Big space
Disadvantages: Indoor not many windows.
Type of food: traditional Portuguese (Famous dish : "the black burguer")
Average price: 15 euros per person
restaurant type: Fast Dining
Drinks: Sangria
Location: Praceta Manuel Carlos Seabra Monteiro 41, Matosinhos 4450-096, Portugal
Advantages: Private events, possibility to include strip or belly dancing, open until after hours
Disadvantages: The price can be above average because of the location, which is also another disadvantage
Type of food: traditional Portuguese (Several "tapas" )
Average price: 15 euros per person
restaurant type: Casual Dining
Drinks: House wine!
Location: Rua do Almada, 151A
Advantages: Good food, Very close to the bars and nightlife in downtown
Disadvantages: Difficult to get a table (You should make an early reservation)
Important:
If you plan to organize a Bachelor, bachelorette, hen or stag party in Porto between June and September try to book your table at least one week in advance. it's high season in Porto and the restaurants that we suggest are wanted by tourists and locals.

When booking try to make it very clear which drinks are included and not included in the menu.

Don´t be too worried about the quality of food, it's hard to eat badly in Porto.

Uber is always a good option to move in Porto, between restaurant and bars.

What you need to know before organizing a Barchelor Partys in Porto?
We never doubt that Porto is one of the best destinations in Europe for a bachelor party or group events.
Here is 5 reasons why:
1) Great price for the accomodation value (hostels/apartements/hoteis)
2) Surprising & Exciting nightlife.
3) Porto is one of the best cities for the food and drinks.
4 ) City is extremely easy to wander and explore.
5) Outdoor Acitivies are available and easy to find.
Ready yet? Here is how to start organizing your bachelor party:
First thing first, book a quick flight to Porto now. Best places to find from my opinion is momondo.com.
When you arrived at Porto Airport (Areporto Sa Carneiro) , you will have metro station sits nicely inside the airport which connects directly to city center (it costs 1,5 euro for the ticket), super fast and convenient. Besides, you also take a shuttle bus for 6 euro/person.
The accomodation to find is depends on your group size as well as how much you want to spend. Porto has some of the best hostel in the world like Tattva, Rivoli hostel or spot hostel (15 euros/person). If you want more privacy, Airbnb apartments are always available. All of them are really easy to find in Porto.
Now you have settled, time for some fun!
I am quite certain that you will be surprised with our extraordinary cuisine. You can have a taste in any restaurants that you find around the city. Quality is ensured. And, please, don't leave my city whithout trying our typical dishes like francesinha or drink the famous national beer Super Bock.
Go on having fun and dancing in Galerias de Paris, one of the main streets in Porto where you can find lots of bars with great music, awesome atmosphere, with beautiful people. All of them are there to have great fun like you too!
However, don't lose all your energy in a night life. Porto has so much more to offers. After a great night with the city and your wonderful friends. Now it is time for nature and some great outdoor activities.
Take a glance at this video, it will surprise you.
See the video:
Contac us by : This email address is being protected from spambots. You need JavaScript enabled to view it.
We professionally organizing your bachelor party as well as your group activity here in Porto!
- We pick and drop your whole group at your hotel!
- Various activities that you can do: Kayaking, Paddling, Hiking, Wild swimimg, Kitesurf, Canyonig , Rafting, 4x4.
- Lunch with our typical food and drinks (Vinho Verde, Super Bock)
- SUPER GREAT FUN!
- Wonderful photos and videos taken by our team.
- We have the coolest and friendliest guide, with amazing local hosts.
Choose Porto
Choose Adventure
Choose Oporto Adventure Tours.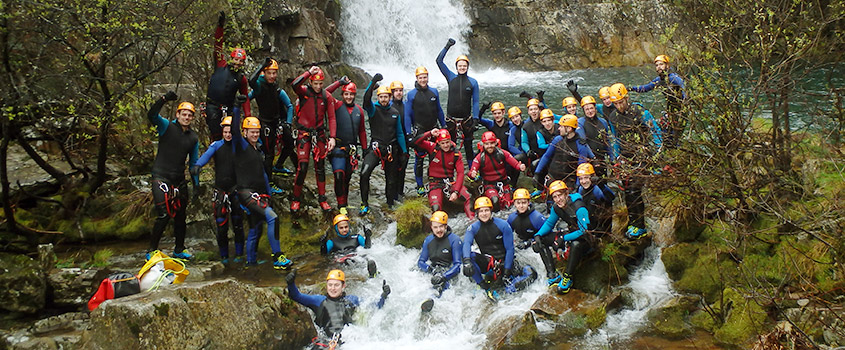 Planning your best friend's bachelor party?
Looking for a different, fun and not expensive destination in Europe?
So, be welcome to Porto! The best European destination to party!
Let's start from the beginning:
1) Flying to Porto
If you book soon enough you can get low cost flights under than 50€ to Porto airport. The cheapest are, of course, Ryanair and Easyjet but you can find good opportunities also in Transavia, Vueling, British Airways, Lufthansa, Germanwings, etc.
From the airport to the city the easiest and cheapest option is to get the subway (which is, actually, a light rail). It takes around 20 minutes and you don't even need to change the line. Casa da Música, Trindade and Bolhão are the common stops to go downtown.
2) Where to stay
The Porto hostels are the best in Europe! Every year there are new awarded hostels in Hostelworld.com. It will be, in fact, very hard to find a bad hostel! An excellent example of design and personality in a low budget is Tattva Design Hostel
,
right in the heart of the old city.
But that's not all! You can always rent an apartment in the city or even stay with locals and meet their habits, with Airbnb... no matter what your choice is, the prices are always competitive.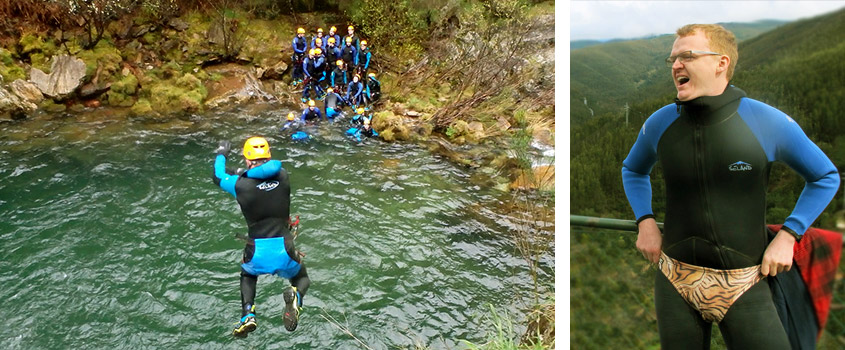 3) What to do
Here's our 24 hours suggestion for a memorable day with your friends:
Saturday 8h30 a.m.: pick up at your accommodation or in Porto airport;
Escape to nature: you can choose between kayaking, paddling, canyoning, rafting or 4x4 safari, but at the end, the important it is to enjoy the sun, the fresh air and have fun in the nature;
Lunch in local villages around Porto and find the most typical Portuguese food and wine (vinho verde).
Return to Porto: time for a glass of Porto wine in Ribeira, contemplating the beautiful views of the river, the boats, the amazing Luis I bridge and the wine cellars while the sunset makes that moment unforgettable.
Dinner in Porto: the restaurants here grow like mushrooms, and they're all about style! There's so many options, so different and for all kinds of tastes, that's hard to pick the best! Our suggestion: Tasco, with their blamelessly delicious Portuguese tapas and an uncommon wine list.
Time to dance: downtown, from Galerias de Paris to Praça Carlos Alberto or even Poveiros, you will find a lot of bars, with all kinds of music and drinks, with as much personality as you can imagine! Usually they're small so the streets are full of people with an unexplainable energy!
End of the night: Tendinha or Eskada are popular discos closing late in the city.
8h30 a.m.: back to the apartment to have a well deserved resting!
4) The prices
Accommodation: around 15€/person

Outdoor activities: around 75€/person with lunch included (depending on the number of people and what activity you choose)

Dinner: 20€/person, food and drinks included

Night of drinks downtown: most of the bars are free-entry and the drinks vary, depending on if you're in the beer/shot mood (Portuguese Super Bock costs around 1,5€ and the shots around 2€) or in the special/fashion drinks mood like cocktails, Whiskey or Gin (from 5€ to 8€).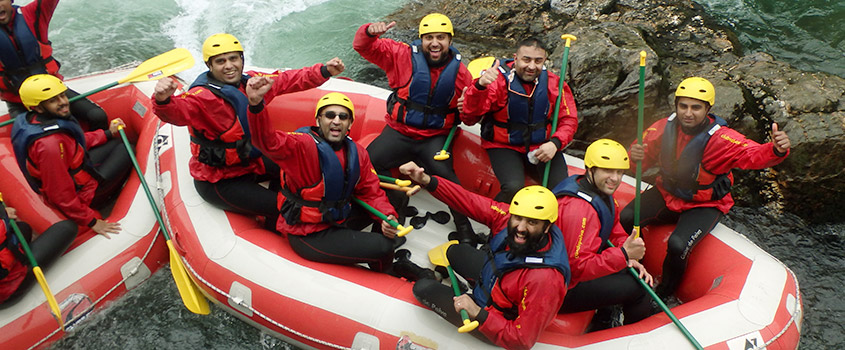 So, convinced already? It's this easy to have a memorable weekend in Porto with your friends, providing the future married a life worthing experience!
Come join us, we can help you with all these details!
Author: Carla Couto
(Oporto Adventure Tours owner)